It's now nearly five years since I first stood in this building and addressed the House. On that day I laid out my goals and made commitments to the people of Fisher who elected me. Throughout my life I have believe that when you set goals and make commitments, you should follow up on them and evaluate your progress against them. As we discuss this government's federal budget today, I want to take the opportunity to do just that.
In my maiden speech, I promised to represent the people of Fisher with integrity, honour and respect. I've certainly always sought to uphold and embody those values, but I will leave it to others to judge my success in doing so. However, I can say that I have never once taken this privilege for granted during the five years that I have been in this place. I committed to work tirelessly for Fisher and I believe that I have lived up to that commitment. I've contributed over 400 times to debate in this place, chaired four parliamentary committees, served on a total of nine, and represented the Speaker on the Speaker's panel. I've travelled to nations on four continents to represent Australia, brought more than 30 ministers to my region, conducted more than 150 listening posts in Fisher and taken part in thousands of meetings and community events across the Sunshine Coast. I've advocated for and secured more than 350 separate funding commitments for organisations and individuals in my electorate, totalling more than $3.7 billion in federal government funds. In doing so, I've stuck to the priorities that I told Fisher residents would form the core of my mission as their federal member.
In 2016, I stated that my No. 1 priority for the people of Fisher would be better road and rail infrastructure, and I believe that I'm fulfilling that commitment. Of course, these things are always a work in progress. This coalition government has invested more in infrastructure on the Sunshine Coast than any government before it. Residents in Fisher are benefiting right now from $900 million in upgrades to the Bruce Highway between Caloundra Road and the Sunshine Motorway which are almost complete. They are seeing work begin on upgrades to the congested highway between the Sunshine Coast and Brisbane, including construction underway between Deception Bay and the southern Steve Irwin Way exit.
Since my election in 2016, this government has committed the funding we need to deliver upgraded intersections and additional lanes on the Bruce Highway on congested stretches all the way from the northern boundary of Fisher to the outskirts of Brisbane, and we haven't stopped there. It's important to recognise that whilst Mark Bailey, the Queensland state minister, is always out there spruiking Bruce Highway upgrades, it's the federal government that funds those upgrades to the tune of 80 per cent. Very rarely does he give any mention to that whatsoever.
Since my election, we have committed $390 million for a long-awaited duplication of the north coast rail line, $5 million for a network planning study on congested local roads in Kawana and Caloundra, $12 million to build a new four-lane bridge on Brisbane Road in Mooloolaba, $14 million for safety upgrades to Steve Irwin Way and millions more for a planning study into the possibility between faster rail tween the coast and Brisbane.
In the 2021-22 federal budget, we've seen another $172 million in new projects funded by the Morrison government for what are, in effect, state government projects. The government is investing $160 million to transform the congested deathtrap that is the Mooloolah River interchange. We are allocating $7 million to extend Caloundra's Third Ave to Nicklin Way and achieve a real solution to the gridlock around the Caloundra Road and Nicklin Way roundabout. The budget also includes $5 million for a study to pave the way for further duplication of the north coast rail beyond the existing funded upgrades.
I remain committed as ever to the promise I made in 2016, and I won't rest on my laurels. This year I've stepped up my campaign to secure funding for heavy rail along the CAMCOS corridor from Beerwah through Caloundra and Kawana and up to Maroochydore. The people of Fisher can rest assured that I will keep fighting for this transformative project.
In my maiden speech I said that the state of our construction industry was dire and that I would work to improve it. I've spoken out more than 40 times in this place about the bullying and intimidation of the CFMMEU and voted again and again in support of this government's efforts to protect construction workers. In 2019, I took up the cause of private building certifiers publicly and played a part in ensuring that professional indemnity insurance would continue to be available to them so that buildings could go on and be built.
Most recently, I played a part in the creation of the HomeBuilder scheme which has saved hundreds of thousands of jobs in construction and helped create the greatest boom in residential construction indicates. To date, this scheme has led to a massive increase of some 34 per cent in residential building approvals from the previous year in Queensland.
During my first speech in this place, and in dozen speeches since, I spoke about my commitment to play a role in supporting better mental health in my community. I'm delighted to say that, since my election in 2016, the Sunshine Coast has become a true leader in mental health research and treatment. I advocated for a total of $7.5 million in funding for the Thompson Institute in Birtinya, which has paid for cutting-edge mental health programs and research, culminating in recent months in the publication of a world-leading study into the use of ketamine in protecting against suicide.
I've also advocated on behalf of those living with an eating disorder in my community, resulting in almost $10 million in funding flowing to the region. Today, the Sunshine Coast is the site of Australia's first ever residential treatment facility for eating disorders. Wandi Nerida is its name and it's the location of a multimillion dollar trial into new approaches to Medicare funded outpatient treatment. Both of these programs are now forming a model which this government is expanding across Australia.
In the most recent federal budget, this government has gone even further on mental health and the treatment of eating disorders. The budget allocated $2.3 billion in the landmark national mental health and suicide prevention plan, $1.4 billion to a high-quality national network of mental health treatment centres for adults called Head to Health, similar to the headspace program for young people, which will also be expanded, with more centres across the country. Most importantly, from my perspective, this package of reforms will also include new measures for eating disorder treatment and research, which I've been fighting for since 2016—$26.9 million will go towards providing additional support for people with eating disorders and their families, including critically $13 million to establish a national eating disorder research centre. As it stands, we don't have a good understanding of the causes of eating disorders, which include the most deadly of all mental illnesses, anorexia nervosa. This new centre will be a big step forward in developing more effective approaches to its prevention and its treatment.
In my maiden speech I committed to working tirelessly for Fisher's 31,000 seniors and, with the latest federal budget, the government has delivered for them. The budget includes a once-in-a-generation increase in funding for aged care that is going to create transformative change in the system as well as introduce important new measures to support self-funded retirees. The government is committing an additional $17.7 billion to a five-pillar package of fundamental reforms to aged care in Australia. This includes $7½ billion to create 80,000 new home-care packages over the next two years, $7.8 billion for residential aged care to increase the amount of face-to-face care time for each resident and billions more for strengthening the Aged Care Quality and Safety Commission, providing better access to GP led care and dramatically improving training and governance for aged-care workers.
Above all, in my maiden speech I committed to working positively with my colleagues in this place to deliver a stronger economy and the creation of jobs for people living in our region. Nationally, I've been part of a government which before COVID-19 had supported the creation of more than a million new jobs and delivered the first federal budget surplus in more than a decade. Since COVID, this government has provided direct financial support to more than 20,000 small businesses and 50,000 taxpayers in Fisher to ensure that our economy recovers as quickly as possible and Sunshine Coast locals get back to work. Locally, I've worked on economy-building projects, including promoting the Land 400 contract and infrastructure such as the Bruce Highway and fast rail. I've developed local activities like the Support Sunshine Coast and Tourism de Fisher campaigns, the Fisher Defence Industry Initiative and my tourism, fishing and small business councils, which have sought to promote local businesses and local jobs. I've done as I've said I would in every decision I've made in this place and in my community. I've considered whether the outcome would strengthen our economy and create new jobs.
Today, despite the challenges of COVID-19, the Sunshine Coast continues to benefit from a growing, vibrant and ever-more-diverse economy. I'm proud to say that, though there is much more work to be done, on every commitment I made in my maiden speech we have made progress since 2016. From my Ready Set Go bursary to the Fisher Community Awards, from my community forums on the NDIS to bringing Facebook and Google to Fisher, from my campaign to Say No to Council's Casino to my Sunshine Coast veterans' days, I've worked hard to support volunteers to uphold our debt to those who have served this country, protect our environment, support those with a disability, promote small business and keep the Sunshine Coast family friendly.
Of all the professional achievements of my career, I believe that the faith of the people of Fisher have placed in me has been the greatest and most humbling. I'm proud that, when given the opportunity in 2019 to pass judgement on my first three years as their federal member, more people in my community voted to give me their trust again than they had in my first election. In the last five years, I have worked assiduously for the veterans in my community. I've held numerous veterans forums. I've had the veterans' affairs minister to the electorate, I've had the defence minister to the electorate and I've had the assistant defence minister to the electorate, all of which have been only very recently as well, on top of previous visits.
We owe a debt of gratitude in this country to the men and women that have served us so proudly in uniform, whether that is domestically or whether that is in harm's way in faraway places. When men and women join the ADF, they do so knowing that at some point in their career they may be called upon to pay the ultimate sacrifice, and they do it regularly. I've been very proud to visit men and women—
A division having been called in the House of Representatives—
Sitting suspended from 19:04 to 19:16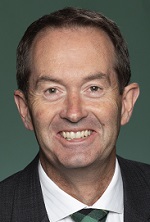 Mr WALLACE: Before we had to rush off, I was talking about how proud I am, and I know every member in this place is, of members of the Australian Defence Force. When men and women put on that uniform, they put themselves in harm's way. Whether on deployment, in training, on Australian soil or in far-afield places, the professionalism of the men and women of the ADF is really first rate. It has been a great privilege for me, and for many of my colleagues on both sides of the fence, to see these men and women at work through the Australian Defence Force Parliamentary Program, a wonderful program that has enabled us to get just a very small glimpse of what life is like in the ADF. It has been my immense privilege over the last five years to participate in that program at least once or twice each year. I want to pay tribute to veterans both young and old for the work that they have done for our community. I want to continue to work for all ADF members and all community members in Fisher as we head into the next election, and I ask for their support next time around.